North Carolina Entertainer for Hire
Enjoy a truly refreshing and interactive comedy performance that happens as much off stage as it does on. Paul's inviting demeanor and quick wit keeps audience interactions, and the laughs, rolling. Experience one-of-a-kind, never-happen-again moments as balls get tossed, balloons get blown, and magic takes your breath away. This performance is as much comedy show as it is a team building party.
Nationally-touring Juggler, Magician and Comedian Paul Miller has recently performed in: Asheville, Cary, Charlotte, Concord, Durham, Franklinton, Greensboro, Greenville, Hickory, Monroe, Mooresville, Oak City, Raleigh, Rocky Mount, Roxboro, Sanford, Southern Pines, Wadesboro, Winston-Salem, NC and other cities.
Recent Reviews from North Carolina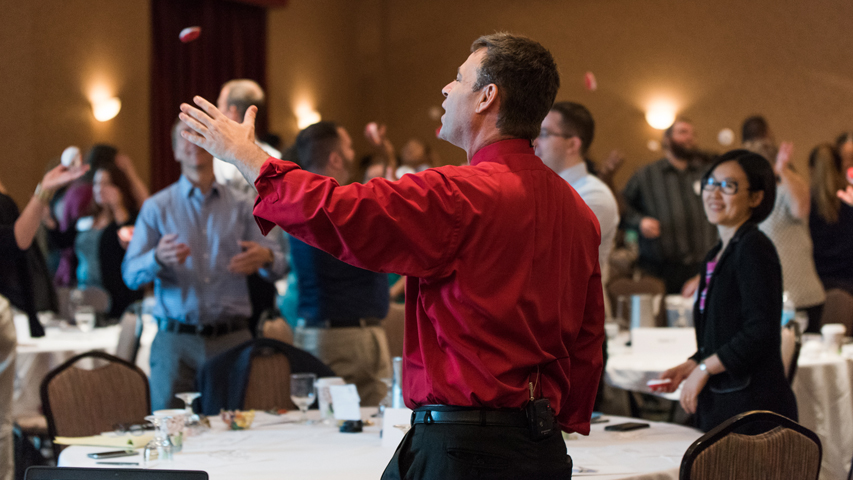 Department Meeting in Cary, NC
Paul Miller was great and a wonderful add to our program. Thank you!"
- VP, Compensation, Charter Communications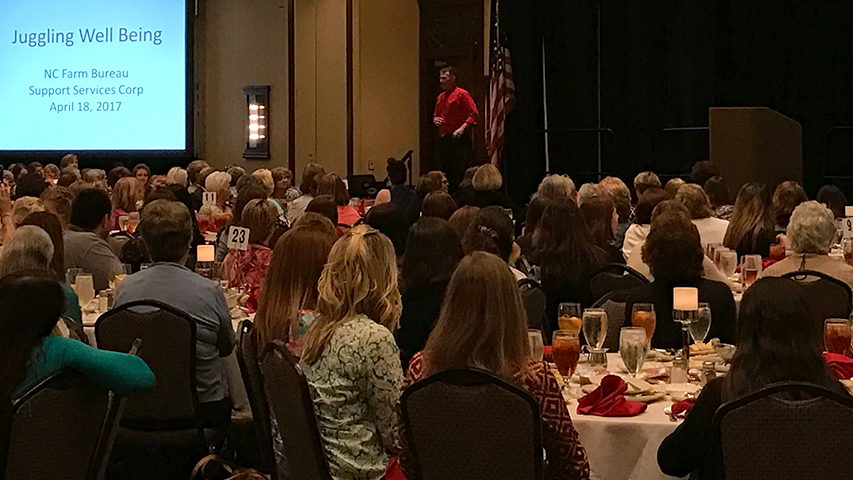 Customer Service Conference in Durham, NC
Paul Miller was a very energetic and entertaining performer who brought everyday relevance to his juggling act."
- Director, NC Farm Bureau Support Services Corp
Service Award Dinner in Mooresville, NC
Paul Miller's performance was great. The Plant manager said in the morning meeting that this was the best entertainment at an awards dinner in the 14 years Cardinal had been doing the dinners. Thanks for everything. Now all I have to do is top it next year!"
- Human Resources Manager, Cardinal FG
Y-Guides Winter Inning in Durham, NC
Paul Miller exceeded our expectations. I heard lots of positive comments that his humor and show were spot on and a perfect start of the show."
- Associate Executive Director, YMCA of the Triangle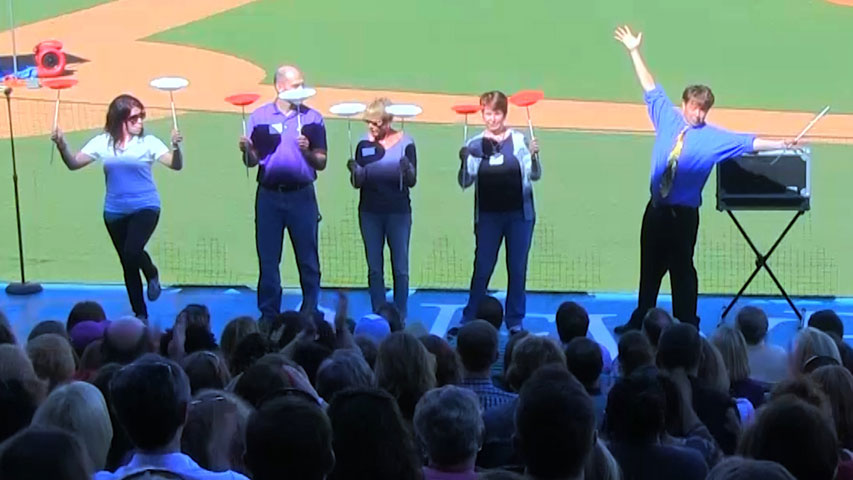 Employee Appreciation Day in Greensboro, NC
We loved Paul Miller! He not only did a great job as per our expectations of his official 'Act' but he was able to truly 'go with the flow' as we did have some technical issues along the way. He just went with it and our crowd loved him. Such a great demeanor and fun. I will highly recommend him and hope that we might have opportunity to hire him again."
- Client Hospitality Manager, Newbridge Bank Corp
Farm-City Week Banquet in Wadesboro, NC
Paul Miller was fantastic. Our group LOVED him. I still have people telling me how great he was and how much they enjoyed him. His stage presence and goofiness endeared him to our audience, but his professionalism and talent told the true story. Paul Miller is the real deal."
- County Extension Director, Anson County Cooperative Extension
Annual Company Meeting in Hickory, NC
Paul Miller did an excellent job! He bonded very well with our group and his presentation worked well for us. I think he was the fourth performer from your agency and all have been well received."
- Vice President, G & B Energy
Executive Educational Conference in Charlotte, NC
Paul Miller exceeded our expectations. He was wonderfully engaged with the audience and in addition to being a talented juggler, has an infectious sense of humor. It really was good clean fun and a great break from the educational content throughout the rest of the day. Many, many thanks!"
- Vice President, USA Risk Group
Member Comedy Dinner in Southern Pines, NC
Paul Miller did a super job! He made the evening a special event that my residents are still chatting about this week! Paul was prompt, easy to work with and he truly engaged the audience which will result in another performance in the near future for us!"
- Director of Arts & Leisure, St. Joseph of the Pines, Inc.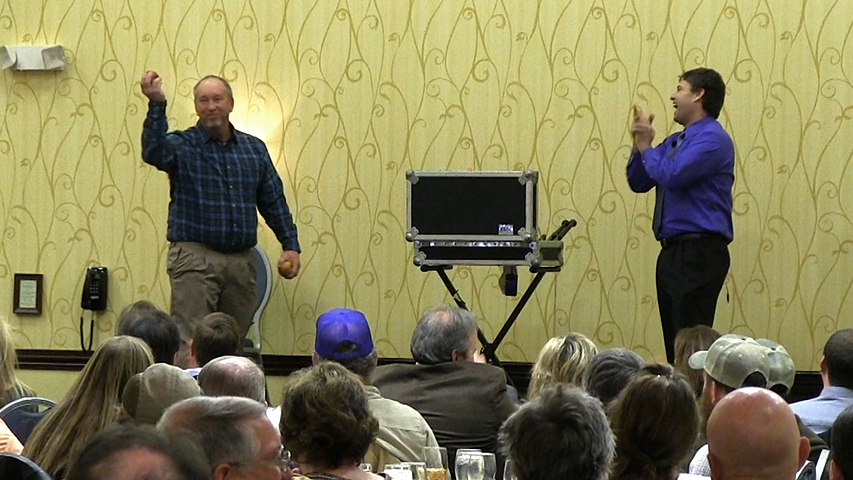 Annual Meeting Banquet in Asheville, NC
Paul Miller did an exceptional job for our organization. He showed up on time, delivered a very good and entertaining program and interacted very well with the audience. We had a small technical difficulty with our sound system and Paul handled it so well that many people thought it was a part of program."
- Educational Advisor, North Carolina Apple Growers Association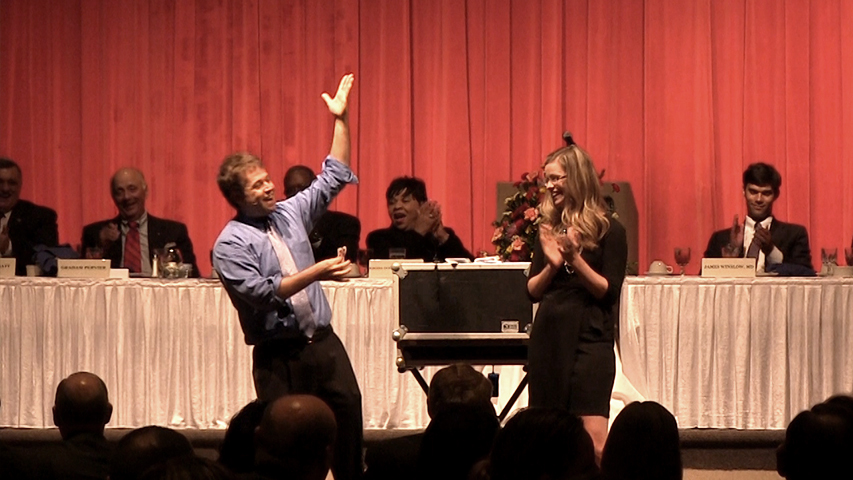 Conference Banquet in Greensboro, NC
Paul Miller exceeded our expectations at our Awards Banquet for Emergency Medicine Today '14. Paul arrived promptly, and was very focused on his performance. While everyone was eating supper, Paul was roaming around meeting people, pretending to be part of the hotel staff, and finding people that would be good sports as a part of his performance. He interacted extremely well with the audience, and feedback has been phenomenal from attendees on his act."
- Conference Planner, Emergency Management Today
Annual Training Event in Winston-Salem, NC
Paul Miller worked great. Very entertaining. Nothing but positive comments. Thanks, as always, for your help."
- President, Savers Marketing
Believe Crusade in Monroe, NC
We cannot thank you enough for recommending Paul Miller for the Believe Crusade. He was worth every cent that we paid. Paul's show was so entertaining and very funny. His quick wit, coupled with his amazing talent, kept the audience mesmerized throughout the entire show. Everyone thoroughly enjoyed him. Paul was not only professional, but he was very personable too. He seemed like such a likeable guy. I was impressed by the fact that he joined the congregation when other performers and speakers were on stage. He even used sign language along with a group of adults with special needs who were singing and signing during their performance."
- Volunteer, Lee Park Baptist Church
Coach & Captain Retreat in Raleigh, NC
This is our fourth time having Paul Miller at our event. He is extremely engaging to our audience."
- Assistant Commissioner, NC High School Athletic Association
Annual corporate awards event in Raleigh, NC
Paul Miller was terrific! I had many employees tell me it was the best Celebration event we've ever had. Paul engaged the audience by calling for volunteers with his juggling routines and his banter with the crowd was very funny. I recommend his act without hesitation."
- Supervisor, ElectriCities of North Carolina Inc
Autumnfest in Southern Pines, NC
Paul Miller's act was great. He was very professional and a nice man. Thanks for your help with our festival."
- Youth Program Director, Arts Council of Moore County
State Convention in Raleigh, NC
We were very satisfied with Paul Miller's performance. Some folks said he was the best entertainment we've ever had. Nothing but positive comments. Tell Paul we really appreciated everything he did!"
- Jurisdictional President, Woodmen of the World
Mardi Gras party in Greenville, NC
Paul Miller is hard working and crowd pleasing! We have used him many times for special events. He is so much fun!"
- General Manager, CPW'S
Awards Banquet in Rocky Mount, NC
Paul Miller is a wonderful performer. He kept the crowd involved and entertained. He came early and walked around and socialized with everyone, which I thought was awesome. I would highly recommend him for anyone looking for stellar entertainment for their function!"
- Volunteer Services Director, Nash Health Care Systems
Christmas party in Oak City, NC
Paul Miller did an outstanding job. He was prompt, professional, and great for all ages."
- Captain, Oak City Fire Department
Christmas party in Winston-Salem, NC
Paul Miller put on a good show. He was very entertaining. His stroll around magic performance was also well received."
- Administrative Manager, Ingredion Incorporated
Christmas party in Raleigh, NC
Paul Miller did a phenomenal job and was perfect for our group. Everyone really enjoyed him."
- Operations Manager, BlueStripe Software
Upward Awards Night in Raleigh, NC
Paul Miller was great! I particularly enjoyed and appreciated his time beforehand interacting and performong close up magic with the audience as they arrived."
- Director, Piney Grove Baptist Church
Childcare Provider Appreciation Night in Sanford, NC
Paul Miller was delightful. The audience participation was amazing - there were approximately 125 people there and all of the feedback was positive. Paul arrived early, was set up and ready to go well ahead of our guests arriving. We would gladly refer him to others."
- Referral Program Manager, Coalition for Families in Lee County