Virginia Entertainer for Hire
Enjoy a truly refreshing and interactive comedy performance that happens as much off stage as it does on. Paul's inviting demeanor and quick wit keeps audience interactions, and the laughs, rolling. Experience one-of-a-kind, never-happen-again moments as balls get tossed, balloons get blown, and magic takes your breath away. This performance is as much comedy show as it is a team building party.
Nationally-touring Juggler, Magician and Comedian Paul Miller has recently performed in: Charlottesville, Fairfax, Harrisonburg, Lanexa, Lynchburg, Richmond, South Boston, Virginia Beach, Williamsburg, VA and other cities.
Upcoming Schedule
| | | |
| --- | --- | --- |
| 12/19/2017 | Williamsburg, VA | Company Christmas Party |
Recent Reviews from Virginia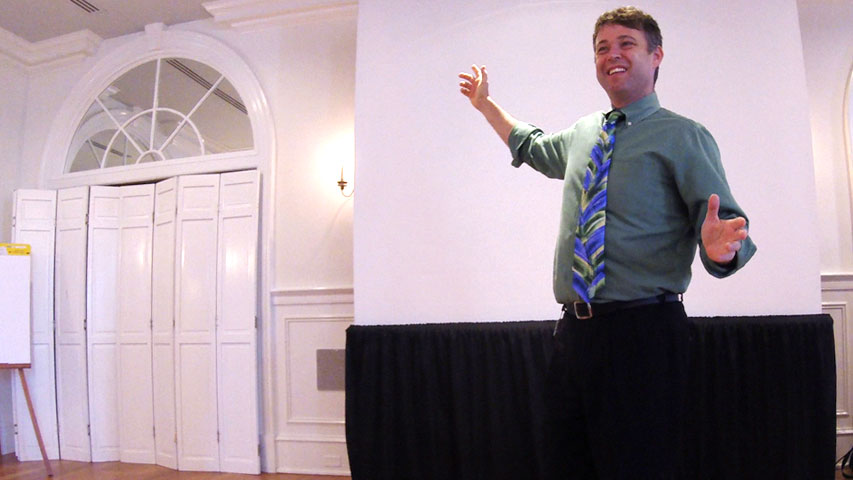 Operations Retreat in Charlottesville, VA
Paul Miller is an engaging and high energy individual. Our group really liked him. Although Paul lightly covers the subject at hand, he is able to keep the audience's attention and send a message with his humor. The real takeaway was that EVERYONE felt included and all worked together doing a fun activity. He's also an amazing talent that gives your group a great show. Paul works with you to make him performance relevant to your group's needs."
- Travel Specialist, University of Virginia Investment Management Company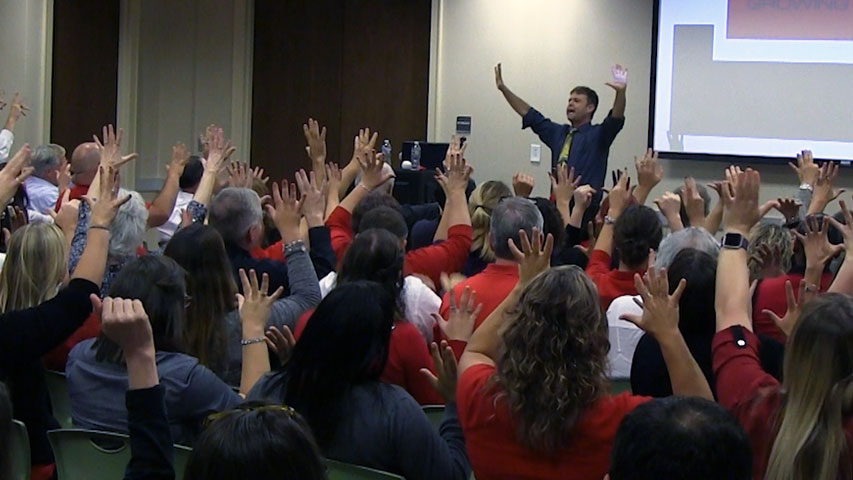 Corporate Training Day in Richmond, VA
Paul was perfect for our event!"
- Director of Human Resources, Essex Bank
All Staff Training Day in Virginia Beach, VA
The physical activity tied with the spoken concepts made things easier to remember, and it was a very memorable and fun way to process information! I liked that it was presented in a practical, interactive, and fun way. I especially liked the Play Break where we could have hands-on learning with juggling, plate spinning, and other activities. Both presenters were extremely gracious, patient, and friendly. I would definitely recommend them to others!"
- Librarian, City of Virginia Beach Library Department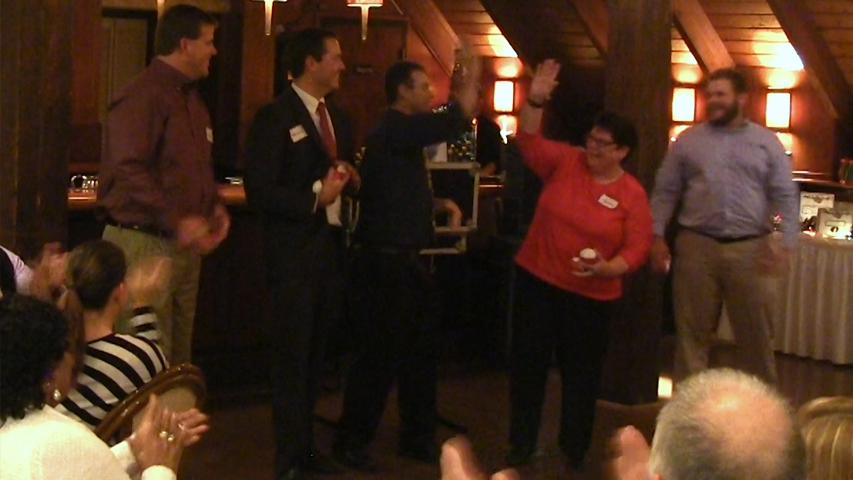 Company Christmas Party in Virginia Beach, VA
Paul was extremely entertaining and well received by our company folks. We asked for some emphasis on safety as it is a large part of what we do and he blended some very nice ways of mentioning it in his tricks and routines. We would highly recommend him for a company event."
- President, DAVCON, Inc.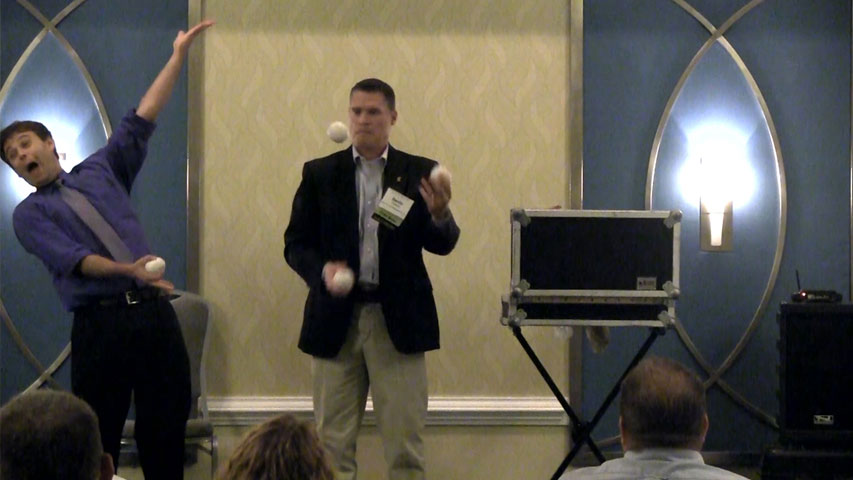 Annual Meeting in Richmond, VA
Our state association was delighted with the performance Paul Miller gave to the leaders, business owners and managers at a dinner reception at our State Technical Meeting. Paul's routine "Juggling Strong Leaders" caught my eye when searching for a performer through Larry Weaver. I couldn't have found a better comedian to deliver a funny, but still meaningful message about leadership and team building to our audience. Paul was prepared and polished and gave a fun and engaging performance. He was responsive and timely in every aspect from planning to performance. Several of my attendees rushed up to Paul after his performance to inquire about booking him for their own company events!"
- Associate Director, National Wildlife Control Operators Association
Annual Conference in Virginia Beach, VA
Paul Miller did a great job of incorporating the theme of our conference into his routine."
- Conference Planner, Virginia Association of Government Archives and Records Administrators
Father's Day Show in Lanexa, VA
Paul Miller was GREAT! He showed up early, was self sufficient, and boy can that guy work a crowd! He started right out of the gate from the time our guests began to arrive by introducing himself and mingling with the crowd. He did table side tricks and told jokes during dinner and then his actual stage performance was awesome!"
- Event Planner, Rockahock Campgrounds
Annual Convention in Richmond, VA
The entire crowd enjoyed Paul Miller's performance. The interaction with the crowd was done very well."
- President, Virginia Association of Surveyors
Fall for Fairfax KidsFest in Fairfax, VA
Very interactive performance and the kids loved Paul Miller! We hope to have him back!"
- Program Director, Celebrate Fairfax, Inc
South Boston Harvest Festival in South Boston, VA
I was soooo pleased with Paul Miller's performance at our festival!!!! He is the BEST. His interaction with the audience is priceless. He had them laughing and applauding at both shows! He never fails to give us our money's worth."
- Festival Coordinator, South Boston Harvest Festival
Campus Comedy Series in Harrisonburg, VA
The show went very well. We had about 100 students. Paul Miller was engaging, high energy, and his show had good variety."
- Student Activities, Eastern Mennonite University